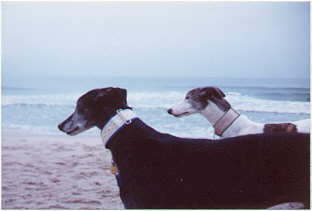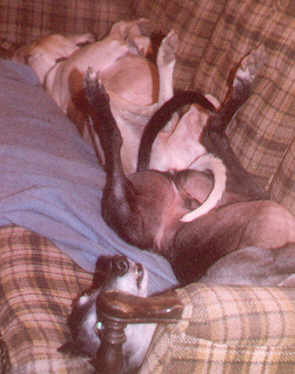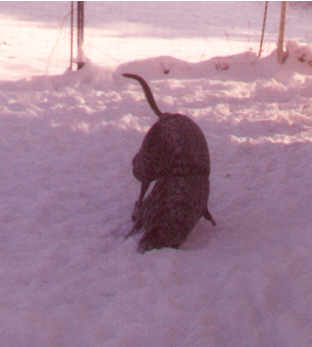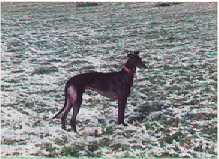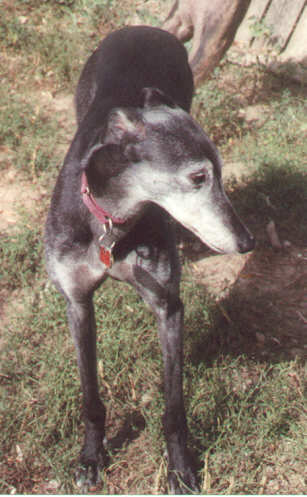 Sy and Patches in Dewey Beach

Sy was my first greyhound and my inspiration for my present status of "Greyhound Collector".  I fell in love retired racers in September of 1994 when I met my first one at a Meet & Greet at the store where I worked.  I met a big blue boy named Ellwood.  He leaned on me to the point of almost falling down.  That's when it hit me.  I had to have one! 

  Trying to convince my husband, Harry of the same thing was a little more difficult since we already had 6 dogs at the time, but he finally gave in and we brought Sy home.

  Sy had broken a hock on the track at 3 years old and was put up for adoption as soon as the leg had healed.  He was scared to death and shook all the way home.  i rode in the back of the covered pick up we had at the time with him and tried to comfort him, but he just didn't want to be comforted.

  After about two days and an all night session of me on the floor with him, he settled down and became a member of the family.  He's still quite shy with strangers today, but to me, he is my heart, my soul, my best loved boy.

Sy the first month he was here.

Sy at 10.  A little whiter, but much more dignified.

Sy and Tia "sleeping together".

Testing out the new coat.






This page was last updated on: June 18, 2008

Whelped: April 27, 1991....Died:  January 31, 2003

Sadly, Sy made his final journey to the rainbow bridge on January 31, 2003.

He suffered myosarcoma in the muscle of his right hip and thigh.  The day I had made te dicision to help him on his way to a pain free life at the bridge, he quietly  crossed over on his own while we were away from the house. Click here for pictures of Sy's swelling in the first stages of his illness.
  Even though he is flying to the bridge on gossamer wings, I can feel him

here with me...all around me....inside my heart....by my side...at my feet.

At last the four muskateers of Dragonflyte are together again.  Geno, Hawk

and Woody must have been waving their tails furiously as they met him there, smiles on their sweet faces, inviting him to race the wind on the clouds, jostling and bumping shoulders in good natured fun.  My boys, the four, truly my angels now, running pain free on four long, solid limbs with the wind in their faces and the sun warm on their backs.  Save mamma a place at the bridge my boys.  I'll be there to join you some day to lead you across the bridge into Heaven.

One of his favorite games here was "Stalking Mamma".  I used to take him

with me to the barn when I went to feed the horses.  He would walk silently

and slowly behind me as I carried the buckets of feed.  The rules were

simple...I was the prey and he was the stealthy hunter.  I would walk a few

steps...he would walk a few steps.  I would stop...he would stop.  I'd start

walking again...he'd proceed too.  Suddenly, I would stop and whip around

and say, "Who's that following me?"

  And he would dart off to the left or right and take off like the wind, run

a circle around me covering most of the yard and return to his position

behind me.  I would walk a few steps....he would walk a few steps......


click the rainbow to see the Greykids at the Rainbow Bridge