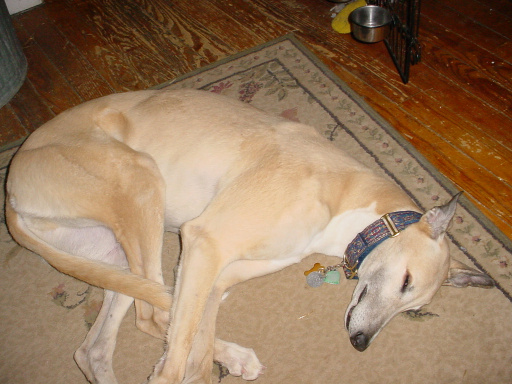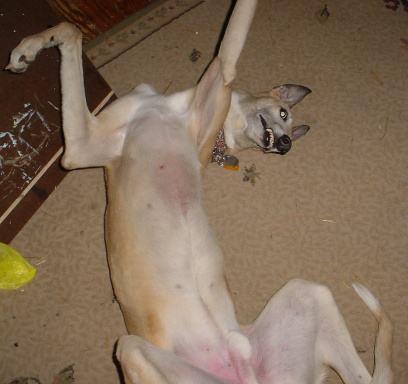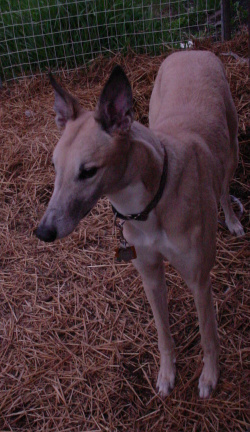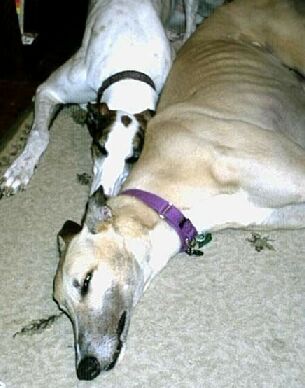 Meet Moses.  The newest member of the Hounds of Dragonflyte!  Actually, Moses is not completely new to this household.  You will be able to find him in the foster section of this site.  He was the third foster here after our move to Montrose.

Moses stayed here about two months in 2003 and was adopted.  I have been kicking myself since he left for letting him go.  I wanted this dog so much, but knew I didn't have the room for another dog, so he went to his new home in Factoryville, PA.

I thought of this big, beautiful dog many times in the last two years and I wasn't the only one.  Several of the volunteers wanted to also adopt Moses, but seemed to have the same problem I do.  Not enough room or not enough money to take on even one more dog.

Much to my surprise, in early May, 2005, my adoption group rep emailed me and told me that Moses was being returned and asked if I wanted to foster him again.

My immediate answer was, "Hell NO!  I am NOT going to foster that dog again!"

And then, "I'M GOING TO KEEP HIM!

I don't know if this was fate, kismet, destiny....whatever.  But I do know that the powers above sent me this dog again and were giving me a second chance and I'm not going to blow it this time!

So here is Moses, lying on the rug behind me like he never left.

The first time around with Kassidy 2003

I wondered how his Mom & Dad could return this beautiful, gentle soul when they loved him so much.  After speaking to them, I discovered that they made a really tough decision and did it for Moses.  Their jobs have become quite hectic this last few months and they are now working 12 to 15 hours every day.  They realized that Moses was suffering because of it and they wanted to be fair to him.  After a tearful goodbye, they left Moses with me and got a promise from me, to be able to see him again whenever they wanted.

Moses has gone to work with me several times now and he has been the epitome of all canine gentlemen.  He's even convinced three or four people that they really need to adopt a greyhound!

Do you think he may have settled back in yet?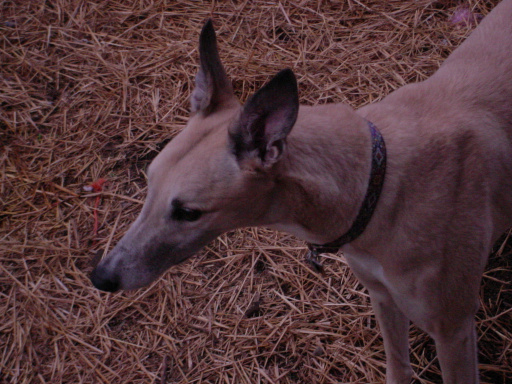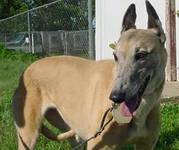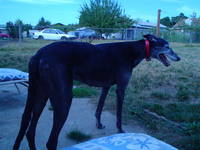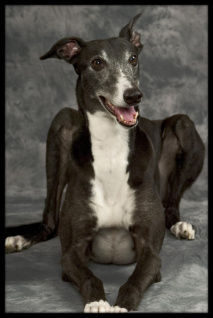 I've been doing a little digging and have found Moses Mom and Dad and two of his sisters!  I found their names on the Greyhound Racing and Breeding Data-Base and inquired on a couple of greyhound Internet lists and found that Mom-Golden Darcy was adopted and renamed Kenya and Moses looks JUST like her!

Moses's Dad is named Waubun Kid Zach.  I'm not sure where he is at present, but his picture shows a beautiful black guy.

I recently had the pleasure and good fortune to be contacted by Moses' sister's (Dear Ms. Star) owner, in Maryland.  Jen Boyd-Morin told me that Kid Zach is living in the Northwest and Kenya and another sister, Brandy, live in Michigan.

I'd also like to thank Suzanne Kimmerly for her help in finding Moses' family!

Neyla aka Dear Ms. Star

Sister

Kenya aka Golden Darcy

Mom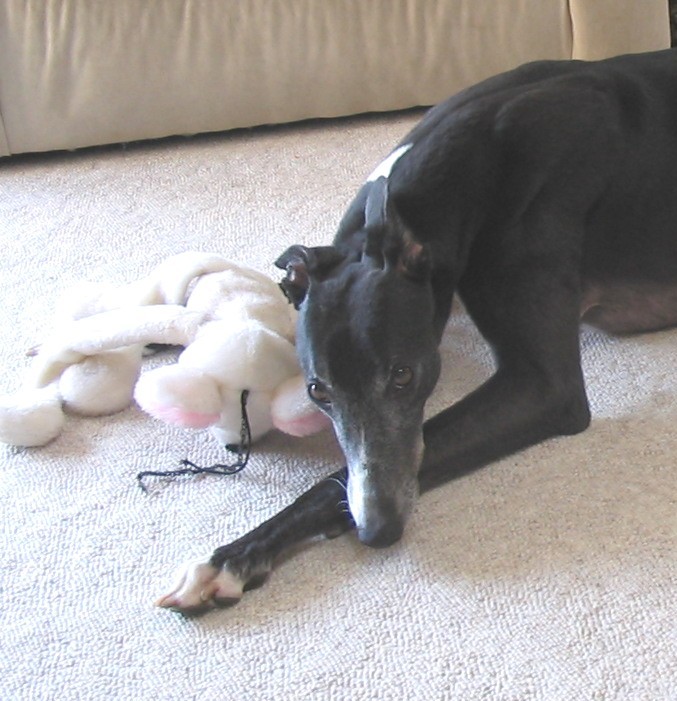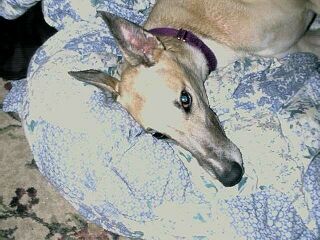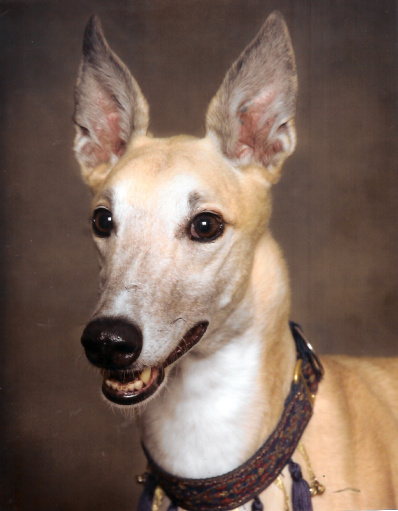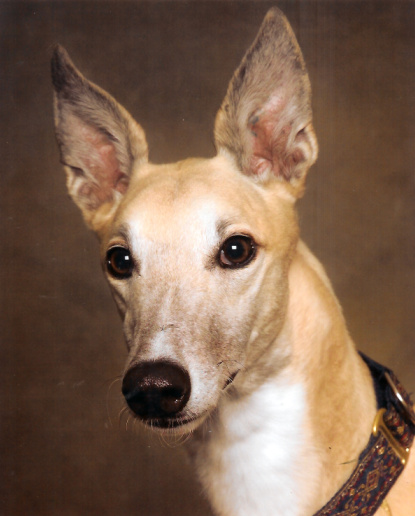 On January 14, Moses was diagnosed with osteosarcoma in his left front leg.  His veterinarian gave him 4 to 5 months without treatment and only 10 to 12 months with amputation and chemotherapy.  With or without treatment, this incidious disease is a death sentence.  I'm not ready to give up my Moses, but even if I had the money it would take to aggressively treat this cancer, I wouldn't put Moses through all of that.  The last couple of months that he would have left would be trying to recover from the amputation and I truly don't think he could handle that.

One of my good customers and now friend, told me that she is an animal communicator and offered to talk to Moses for me.  This is the result of Moses's reading with my comments in blue.

Moses is living quite in the present right now... he's kind of unaware (sort

of and would like to pretend that it isn't there) and doesn't want to deal

with what is happening.  He prefers to be happy and live each moment as it

comes.  "Mommy is sad most the time now" you're not going to believe this

but he said "she's bringing down the house".  He's not upset with you but he

doesn't want to be sad.  He just showed me blue vetwrap or some sort of

bandage or tape around his wrist, not sure if he has it on or if he wants it

on, but he says he likes blue.

I took Moses to work with me that day and I wrapped his wrist in BLUE Vetwrap!!

I didn't tell her or anybody else that!

Okay, I've asked some specific questions of Moses...

Do you know you have cancer?   Yes I do

Do you know you will be transitioning to spirit body?  Yes, I believe it

will be March that this will happen.  He says not to worry, there is someone

on the other side who's name starts with an "R" that is going to meet him.

Then he shows me a great source of warmth and light.

Are you happy right now?  Yes I am, I love my mommy.  Then he goes on to

think about a smaller dog fondly that he may be missing.

Moses seems to be a wise dog.  He says he likes to pretend he's silly but

he's really smart.

I asked him if he knew that the cancer he has can not be cured and he said

Yes, he knew.  I asked him if he would want his leg amputated and he said

No.  I asked even if it could give you another year?  He said he didn't want

his leg amputated even if it gave him another year.  He says he's only

supposed to be here in this body for this length of time, he has pressing

obligations he needs to complete.  He shows me a picture of a little girl in

a blue dress.  I'm not sure what this means.

Now this one is freaky.  You know I told you I had him at work with me

that day?  There was a little girl  wearing a blue dress  patting him at work!!

He says "CHEESE".... I think he's distracted by his tummy haha.

I've been hiding his pills in cheese for a few days because he doesn't like

them!

I thanked him for his time and said good-bye.  He is a wonderful boy and a

pleasure to talk with. 

Now I know that Moses doesn't want the amputation so I am confident in my decision.  I will keep him as happy and pain free as possible until I see that, "I can't go on" look in his eyes.  He'll let me know when it's time.  I just wish I'd adopted him two years ago when hefirst came to me.  Then I would have had more time to spend with him.  He's a very special boy and I will have him with me always, whether it's here on this plane or the next.

Another friend heard about the special bed at work that Moses really loved and bought it for him.  (Thanks Ro.)

Here's Moses at work trying out his new digs: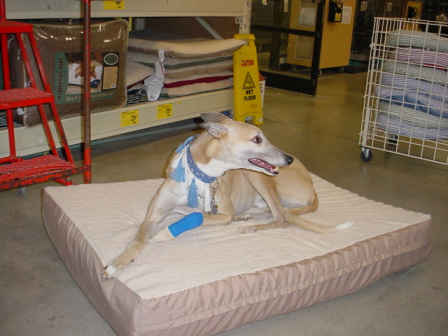 My Heart Will Go On

Celine Dion

June 20, 2006

Every time I'm faced with this decision I have a multitude of well meaning people tell me, "You'll know when it's time."  or "He'll tell you" or "You'll see it in his eyes."

As far back as I can remember, I have never seen anything in any of their eyes.  Maybe a little pain, a bit of sadness, maybe even a little despair, but not one of my pets whom I've had to send to the bridge have ever, not

even once, "told me with their eyes" that they were ready to move on.

Moses is no different.  All I see in his eyes is the pain of this horrible disease that's got him in it's grip.  The pain meds aren't nearly as effective as they once were.  He lies down almost all of the time now and never puts any pressure on that leg.  He still wags his tail at me when I come home from work. But not with nearly as much gusto as he used to.  He still eats almost all of his breakfast.  But without his usual relish and zest.  He still hops around

pretty well, but now he cries out softly as he's doing it and screams if anyone bumps him.

I'm not sure if all of this means that it's really "his time" yet, but I can't stand here and watch him suffer through this pain one more day.  I know it hurts.  I know it hurts more than anyone or anything should have to bear.

And so, tomorrow, I'll be seeing my dear friend and companion, Moses, off to the Rainbow Bridge where, if what they say is true, he'll be whole again and pain free.  Where he can run and  play with my Sy and Geno and Hawk and Woody and Patches and Annie and Polly and Katie and Talon and China and Chelsea.

My God!  I've made this decision so many times.   I guess the only way to assure that I won't have to do it any more is to never give my heart away to another precious soul again.  But since I can't see my life like that

either, I will continue to fall in love, laugh and cry and live life the best I can and say goodbye again and again.


June 21, 2006

I changed my mind a dozen times or so, but I knew that if I didn't go through with it today, it would be for me....not Moses.  I don't think he was quite ready, but like a friend said, "Better a couple of days too early, than a couple of days too late."

Several people wrote that I should make a list of all the things Moses liked to do and when he couldn't do the top three things on the list any more, it was time to send him on.

There was only one thing on Moses' list of things he loved to do....that was put on one of his M&G collars and go somewhere....anywhere with me.  He loved going to work with me and meeting all the people and seeing all the dogs that came into the store.  He loved going to M&G's and visiting with all the potential new greyhound lovers.

For the past four months or so, Moses wasn't able to do that any more.  He couldn't even leave the house with his leg in the condition it was. 

But this morning, I took off his every day collar for the last time and put on his beautiful golden collar with the hand stitching and gold tassels.   He got all excited, started hopping up and down, thinking we were FINALLY going to work!

When we got to the vet hospital, he got started all over again.  "Where are we?  Oh boy!  Oh Boy! I don't care where we are! We're SOMEWHERE!!"

I feel like I pulled the most horrible, dirty trick imaginable on him.  He had no clue as to what was going on, but his passing was quiet and serene.  I guess I should be thankful for that.

  My main regret was that I didn't have more time with him.  Only a little under one year and now he's gone.  Gone to a happier, painless existence with all of those who we've sent to the bridge.

Moses was responsible for countless greyhound adoptions.  Not one person who met him didn't fall in love with him.  Even the lady who told me she thought Greyhounds are ugly was hugging him and kissing his head!

Goodbye my sweet boy.  Save a nice, grassy spot near the bridge for me and when it's my turn to go, I'll meet you all there and we can walk across the bridge together