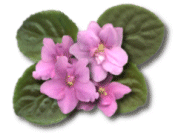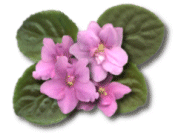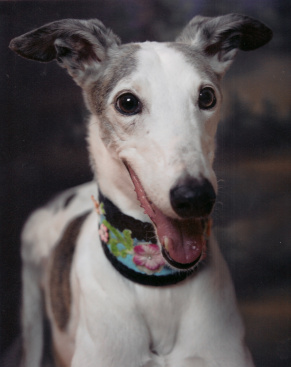 Her racing name is Cheyenne Hart.  Her call name was Patches.  She is a granddaughter of the famous racing dog Dutch Bahama and she has those wonderful Dutch Bahama eyes.

Patches had been adopted at the age of two by a family in my area.  They had two small children and Patches fit right in.  She loved the kids and they loved her. 

Eventually, the kids got old enough to go to school and the Mom, who had stayed home with the kids and Patches, went back to work full time.
  This left Patches home alone and able to get into mischief.  She apparently damaged things in their home and had accidents on the floor in her frustration at being left alone.


Finally, the family gave my rep, Ann Whitney, a call and told her that they were returning the dog.  Ann called me and asked if I could foster her until a new home could be found.  I agreed and called the number Ann gave me.  I spoke to the Dad of the family and asked why he didn't just crate Patches when they left for the day.  He told me, "She is uncratable."  I asked, "What do you mean, "uncratable"?  There is no such thing as an uncratable Greyhound."  (At least in my book there isn't.)
He replied, "She cries when she's in there."

"So let her cry.  She'll get over it."

"But she poops when she's in a crate."

"Let her sit in it for a day.  She'll get over that too!"

"I can't do that."

"Then why don't you just get another dog?  She just needs company, is all,""

"I don't want to do that either."

"All right," I answered, "bring her down.  I'll foster her if you really want to give her up."

They didn't really want to give her up, but decided that they couldn't handle her separation anxiety.  That's how Patches came to us.

The first day, I crated her between two of my dogs for a half an hour and stayed in the room with her.  She never moved.  Never made a sound.  The next day, I crated her between the same two dogs and left for work.  When my husand came home from work I spoke to him and asked how Patches was doing.  Harry said she was fine.  "There's nothing wrong with this dog!"


Three days later, I told Ann I wanted to keep Patches.  She was our first girl Greyhound and has had run of the house ever since.  She is never crated now!  And she's happy as a clam!  A year after she came, Patches passed her CGC and TDI tests and is now a Pet Therapy dog who makes regular visits to hospitals, nursing homes and does Greyhound meet & greets.  She is a fine Greyhound embassador.

Of course every time I see the couple who owned her before, I have to rub it in!

Whelped: April 13, 1993   Died November 5, 2005

Gotcha day: April 9, 1998

Sire: AC Dear Darby       Dam: GM Express Shun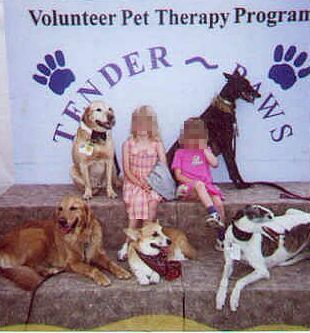 Here's Patches!  And that's Leonor above her.

This picture was taken at the Children's Miracle Network Telethon Carnival at the Children's Hospital where Patches and Leonor, Nadya and Phantom all participate in the Tender Paws Pet Therapy program.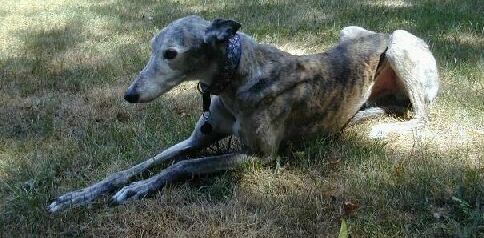 Patches Sire~ AC Dear Darby, son of Dutch Bahama, adopted by Molly Dorais and family.  Sadly, Darby crossed the bridge last year.  He is missed.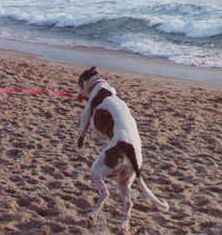 Patches livin' it up at the beach!









This page was last updated on: May 28, 2010
Sadly, Patches became quite unstable in her rear quarters and she was diagnosed by her Veterinarian to have  disabling neurological damage.

I held her in my arms and told her how much I loved her and would miss her as she passed quietly to the Rainbow Bridge on November 05, 2005 at the age of 12 1/2 years young.


Two seperate times, Patches was attacked in our own yard.  Both times the damages were devastating.  For the whole stories and pictures, click here.  But be warned, they are GRAPHIC!